I'm having a contest! I will be offering my Victorian Christmas kit from last year again; however, I'm creating an additional kit featuring Victorian Christmas Angels that will be for sale. Want to win it??
A while back I did a challenge at DSO and created a layout about me. It wasn't easy because I usually don't scrap myself. I used Jeanne Baechtold's "Refreshing Meadow" kit. Here it is: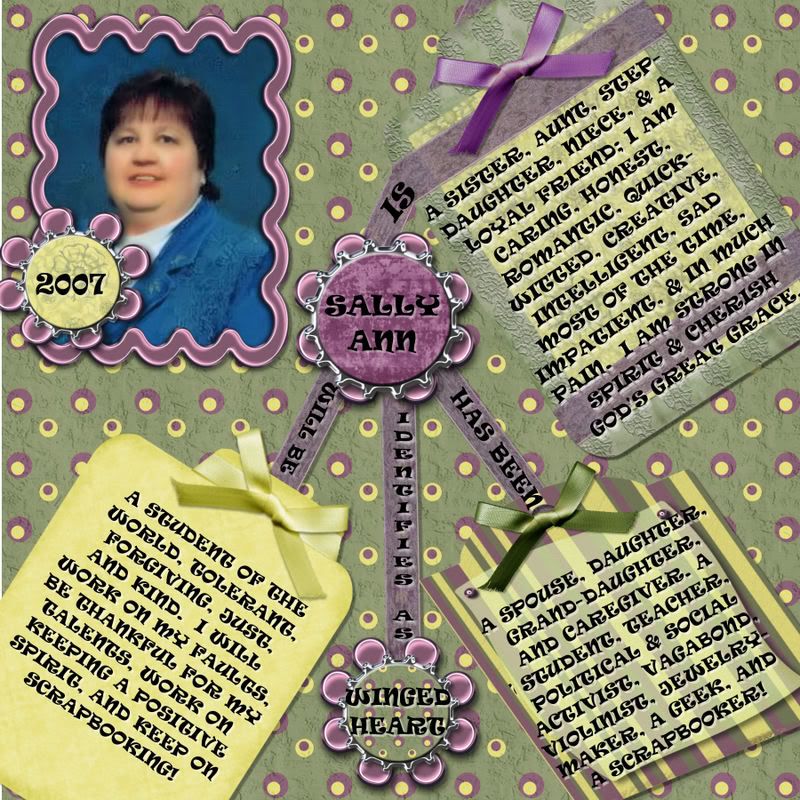 I was thinking that I'd like to get to know my blog visitors a little better so I'm having a contest to do just that. To enter, all you need to do is create a layout about yourself and submit it to me. I will ask my creative team (Patricia and Judy) to help me judge the entries. Here's the rules:
1. Use any designer you like, just make sure you credit the designers whose products you used.
2. Include information about yourself. This can be anything you feel you want to share: where you live, your career, your likes or dislikes, etc.
3. The layout should reflect what you consider your personal scrapbooking style to be.
4. Have your layout to me before December 15th.
That's it for the rules! The layouts will be judged on overall design and creativity. I'll post as many entries as I can on this blog -- I'm sure I won't get hundreds of them so I should be able to post most of them! LOL
I hope to get to know some of you better! Send you layout to me at wingedheartohio.blogspot.com. Can't wait to see them and good luck!
Blessings,
Sally
Winged Heart